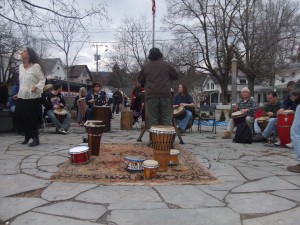 Drumming Circle in Woodstock NY started on Sunday April 3 and continues every Sunday from 4-6 pm through late autumn.
While I was shopping at Kohl's in Kingston I received a call from my friend telling me that my fellow drummers were setting up for the drumming circle on the Village Green. The positive energy of her excitement came through the phone and lit me on fire.
It was a beautiful sunny spring day that lifted our Catskill Mountain spirits after a very long, cold, snowy winter here. As I drove home from Kohl's to shower, change, eat and grab my Egyptian drum I was very aware that the healing energy of the drumming circle was calling to me. With delight I drove from my home in Saugerties to answer the ancient call of my tribe.
Drum, Drum, Nice and Steady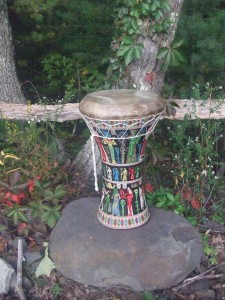 You can bring your own drum or grab an extra drum available in the circle on the Village Green in the center of town. Whether you are experienced or not, express your heart beat by beating on the skins in community.
Drumming called to me and my intention was to use it as a vehicle to uplift and honor my spirit by using it as a meditation after a long, challenging winter. So off I went to the Woodstock NY CommUNITY Drum Circle with my Egyptian drum. I found my spot was at the end of the bench.
Bringing my focus within me I began. Drum, drum, nice and steady, letting go of my mind and breathing deeply. Then no mind as the hands drummed on their own, channeling the beat from deep within me.
The creative energy flowed freely as my hands kept the beat going, drum, drum, nice and steady. I felt my inner being uplifted. JOY!!  The experience of no mind was blissful as I was being carried by the divine beating through my hands onto the drum.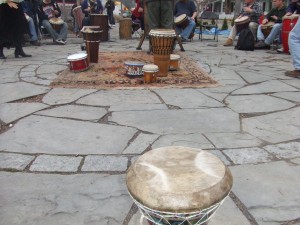 Drumming is Done from the Inside Out
Drumming is done from the inside out like a meditation. In order to get to the flow of drumming, we have to first let go of the ego.
Close your eyes as you bring your focus within you. Take three cleansing breaths.  Relax and continue to breathe. Feel the beat of your heart, thump, thump, thump. Let your heart be your guide as you beat each hand on the skins and feel that the drumming is done from the inside out.
Be aware of your thoughts. Consistently bring your focus back to the beat in the moment. Be in the process. It is not about the end result. Keep focusing on the beat.  All you have is this moment and your breath. Then drumming is done from the inside out. As in meditation you are set free from your rational mind. Your thoughts are the obstacles to being in the flow.
Keep bringing your focus back to the heart beat of the drumming. Let go and let the divine express itself through you. That is the bliss, the flow and the healing effects of drumming that we experience when we are surrendered to God within and expressing the Goddess.
For more information: Woodstock NY CommUNITY Drum Circle
More Related Articles:
Intuitive Readings Seattle – Reiki Healing Seattle – Meditation Classes Seattle 
For more than 29 years I have been helping many people from all walks of life and across the world, including India, China and England. Some clients prefer to come see me in person for an Intuitive Reading. However, the majority of my clients call me for phone sessions.
Intuition is unlimited as God is unlimited so it doesn't matter whether you are in the same room with me or in Hong Kong! My intention is the same – to serve as a channel of clarity and healing to assist you in all areas of your life. Doing this work makes me truly happy and I blessed to be able to help people and do what I love.
When you set up an Intuitive Reading in Seattle or a phone session with me, it's best to write down your questions ahead of time. This helps focus your intention on what it you want guidance for in your life.
At the beginning of your Intuitive Reading, I go deep into a meditative state and ask Spirit to allow me to be a clear and pure channel of love, healing and guidance for you. The answer to each question flows through me in words and pictures and the information received is spiritual in nature, yet practical for every day life.
I encourage all of you to:
Live your true potential
Feel your own wholeness
Experience inner peace and joy
Express your creativity
Be who you really are- perfectly human and perfectly divine
For more information about Reiki Healing, Intuitive Readings and Meditation or scheduling a session, please fill out the online contact form or give Maureen a call at (845) 706-HEAL (4325).
Namaste
Love & Blessings
Maureen